biography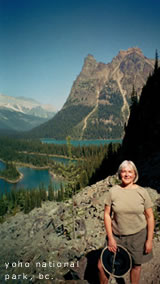 Lorraine Martinuik works as a painter, printmaker, sculptor and poet. She began her visual art career as a fibre-artist, using the tapestry medium to reflect archetypes and elements of landscape. In 1983, she enrolled in 3D at Emily Carr Institute of Art and Design, where she studied with Al MacWilliams, learned to weld, and discovered printmaking.
Martinuik's artwork has been exhibited over the past thirty years in both group and solo shows all over British Columbia (Vancouver, Richmond, the Fraser Valley, Courtenay, Denman Island, Wells), in South Africa, and in New Zealand. Her prints and paintings are in private collections in Japan, New Zealand, France, and Canada. Her poetry and experimental prose has appeared in literary journals such as Island and The Capilano Review, and in the anthology Kitchen Talk. In 1989, she was awarded a Canada Council grant, for an experimental fiction project that dealt in part with narrative structure.
Martinuik was born in northern Alberta; she grew up in B.C.'s Peace River district, and later in the Fraser Valley. She has been based on Denman Island since 1980, when she bought a piece of raw land and built the studio cottage where she now lives and works. She holds a Bachelor of Fine Arts from Emily Carr Institute of Art and Design, a B.A. in English from the University of British Columbia, and an Education diploma from Simon Fraser University. Since 1990, she has been working as a technical writer in the industrial and high-tech sectors.